Many of you probably know of Ferraro, author of blog
Paladin Schmaladin
. There was a lot of
drama
surrounding
that
site
as it became known that Ferraro had been posting pics of another person without permission and passing it off as themselves. Then when confronted about it, Ferraro admitted to the farce and then further revealed that she/he was the 7th in a long line of Ferraro's ala the Dread Pirate Roberts in the Princess Bride (book/movie), which is also debated if that is true. This is a rough summary and I'm sure I missed many details of the whole debacle.
So basically, all this drama caused so much controversy but Ferraro continues to blog (after coming back from quitting blogging when the drama broke out) as well as adding more bloggers on board his/her site. I'm sure many paladins have been helped out by his/her website, much as I have been too. Ferraro is a prolific blogger and is intensely interested in the paladin class as proven by the many varied posts on the blog.
As an anonymous blogger myself, I wouldn't want to out any one that chooses to blog anonymously. However, Ferraro has chosen to out him/her self.


I have no clue how long this has been up but I guess since WoW Armory was revamped as there is now an armory link for a holy paladin on the side, which I assume is Ferraro #7 =P

I am not sure why Ferraro has decided to do this now and apparently, without much fanfare or comment from his/her readers. It just makes me curious.

I only noticed this because Ferraro posted a simple video of him/her healing a 5 man dungeon heroic for the daily 2 Frost Emblems and revealed his/her character in the process.



This really piqued my curiosity and I must confess that I spent some time trying to search for the armory link. I failed at that but then I belatedly noticed the actual armory link on the website - double fail.

This raises a few thoughts in my head. As an anonymous blogger myself for very specific reasons, I wouldn't appreciate it if someone tried to reveal me. Why did I seek to find out his/her character?

Curiosity

- Blogging anonymously for so long, I wanted to see the actual character even if it was for my own private knowledge.


Competitiveness

- I want to see exactly how I measure up against Ferraro because let's face it, people play WoW to get gear. I wanted to see how close I am to someone that has been writing as a holy paladin mentor and hinted at being in a top guild.

Titillation

- Every one loves to talk about it but no one admits they love to do it. People like to gossip or find out shit they're not supposed to or weren't allowed to know. Human nature, people!

Anyway, I happily compared my character to his/hers and found that mine was not that far off. I stopped gemming for all int + Nightmare Tear to activate meta (because I got bored =X) and Ferraro does have a few pieces better than me so his/her mana pool is a lot bigger than mine.

After I was done with all this though, some questions were raised in my head.

Why did Ferraro name him/herself Evercleâr? (alt +131 for the weird a)

Why now?

Does it make his/her posts on holy paladin healing more authoritative?
Would knowing my in game character let my readers feel that I know what I am talking about?

Does it matter that he/she outed him/herself?
And finally:


In the end, I don't think I would want to out myself just yet. I have already made a few slip ups and I know 1 reader for sure that knows my real life character's name (even though I have transferred since then but my name is the same and on a short list in the armory).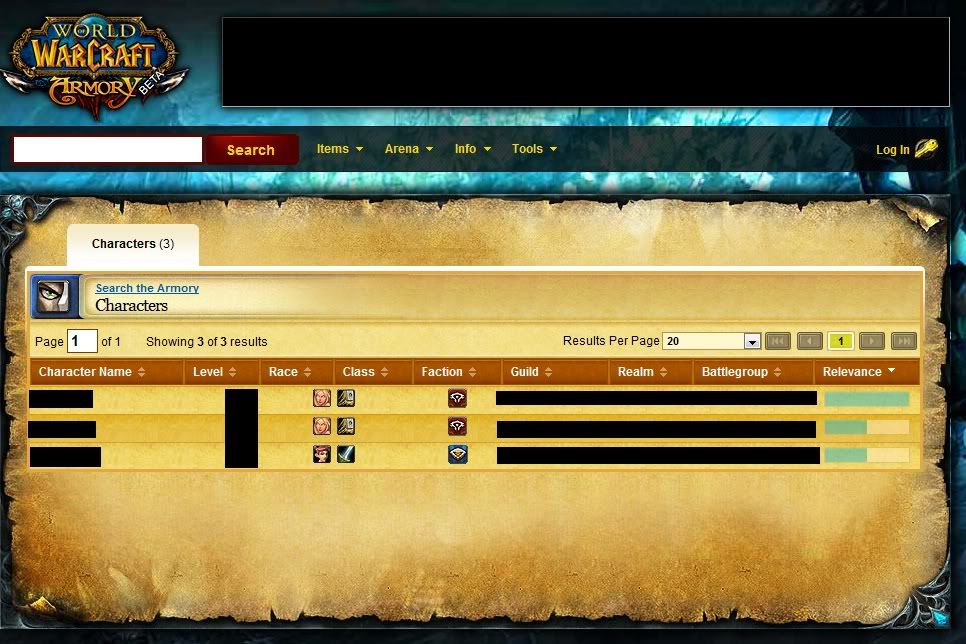 I really don't mind helping other paladins but though I have stated my reasons for my preference for anonymity before, here they are again.

Availability

- I want to be antisocial sometimes and that is hard to do if random people (if any) pm me to ask questions. I know I'm no Ferraro but I feel like people would treat me as ultra accessible because I have a blog.


Reputation

- Everyone has their good and bad days but I know I can have a volatile temper. Certain things just piss me off and there are people out there that get off on making you upset or ruining your day. I don't want to be mean and bitchy (because every girl can be) or make mistakes, God forbid, only to have it come back to troll me on my blog.


Personality

- Sorry but I'm boring and I'm no entertainer.


Expertise

- I think I have a good handle on being a holy paladin but by no means am I perfect. I would feel intimidated at the idea of anyone treating me like an expert. I definitely have my own weak areas that I need to improve on still.

Drama

- If I get outed, this means no way can I talk shit on my blog or talk about people being shitty even if they are really being shitty because for whatever reason, it's easier to think about it if it's about someone you don't know. Everyone will have a bystander's objective point of view unless it mirrors their own situation.
Anyway, just posting some of my thoughts on this subject. No, I don't know when I will write some

real

posts but even then, I love you readers! Till next time!